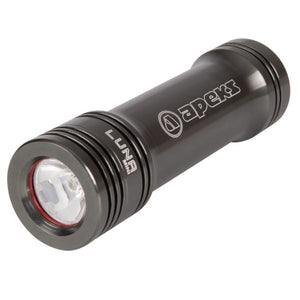 Compact and lightweight – can be used as both a primary or back up torch.
Choose your power settings to optimise run time, low, medium or high power.
ITM (Intelligent Thermal Management) – Patented circuitry within the light reduces power to the LEDs if they go beyond the optimum temperature, keeping the light as efficient as possible to maximise output and battery capacity.
No need to open the torch to recharge the battery, which reduces the possibility of leaks.
Features a dedicated SOS Strobe for emergency use in or out of the water
Supplied in an Apeks branded reusable zippered case to protect the torch during storage and travel.
Multi-use – ideal for camping trips or keeping in your car in case of emergencies.