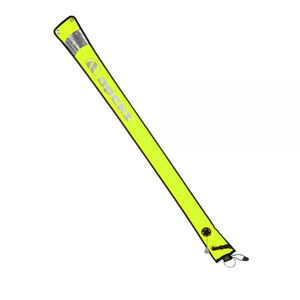 Unique oral inflation valve allows for easy one handed operation in cold water.
2" stainless steel D-ring allows for easy attachment to your reel or spool.
2 x brass eyelets at the top of the SMB allow you to attach a torch, strobe or slate, they also enable the SMB to be folded and used as an emergency float.
SOLAS reflective tape on both sides ensure maximum visibility in rough seas and darkness.
Simple bungee closure system with enlarged rubber pull tab allow for easy stowage and deployment even when wearing gloves.
1.4 meter single breath oral inflate SMB.
Fully taped and heat sealed edges ensure the SMB is extremely durable.
Reflective logo print.
Over pressure relief valve with pull toggle ensures ease of use even when wearing gloves.
Available in orange and yellow.
Supplied in plastic free packaging.