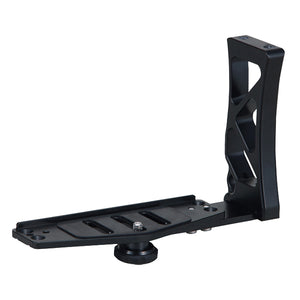 The Sea & Sea Sea Arm 8 Camera Tray with Grip (No Bracket) serves as the base for the whole Sea Arm 8 set.
It mounts on a camera housing and is designed to give you greater maneuverability and options for underwater photography and videography.
A bracket shoe (#SS-20100) or Fixed Arm Base (#SS-22119) is required to attach a ball clamp and double ball arm, to which you could then attach a light or other accessory.
The grip is ergonomically designed for comfort and ease of use. Constructed from corrosion-resistant, anodized aluminum, this unit is protected against scratches, impact and the elements.
This tray with grip is compatible with most compact camera housings on the market.